As part of the Bristol Refugee Week 2020, our Rachel shares her touching story of fleeing civil war – with her family – when she was only six years old.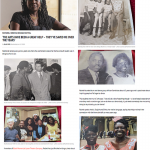 Growing up, she eventually forged a successful career in the arts and as a champion for diversity and equality.
Click on the link below to read the full article in the Bristol 247 publication
The Arts Have Been A Great Help – They Saved Me Over The Years.