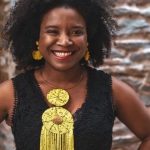 Born in Madagascar, raised in South of France, now living in the UK, Christelle has been working as a makeup artist since 2010.

She also has a background in education, having worked for several years in research councils and universities in programme/project management roles with an international focus.

More recently, Christelle has also become a presenter on Imperial Voice Radio, hosting a show called Fashion Rendez-vous.
"More! More! More! Fantastic"
"Exceptional show and performance. Huge thanks and congratulations to all the amazing women involved. Thanks to sponsors too. Deserves to be seen by many."
"Great variety of Pathos and humour. Such a joy to watch"
"Excellent, lots of diverse emotions. Real. You should go on tour. Consider taking to schools. Thanks"
"10, This was fantastic; capturing the complexities of identity, the good and the bad. Stunning."
"Wonderful. Really nourishing/enriching. Fabulous celebration."
"Very intimate, informative, personal & thought-provoking."