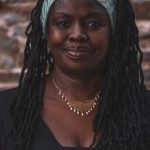 With a 25-year career in the Arts Sector, Rachel is Founder and Artistic Director of African Sambistas - a drum and dance group - now into its 11th year running regular workshops and performances at popular summer festivals such as Womad, St Paul's and Bath Carnival, Bristol Pride and Shambala to name a few.

She has also led on programming and Artist Liaison for the annual Tribe of Doris festival since 2012.

Rachel is a researcher and writer with a keen interest in dances of the African Diaspora, especially the music, dance, cultural and spiritual practices of Brazil. Her research interests took her to Salvador Bahia, Brazil where she trained in the Silvestre Technique and Orixa Dance movement, while exploring ancestral memories in the creative process.

Rachel is also a consultant and mentor, with expertise gaining over 25 years working in the community and voluntary sector. She has acquired a deep knowledge and understanding of integrating different cultural groups; dealing with racism and discrimination in the work place and wider community.  She offers support to employers to increase the diversity of their workforce and improve their cultural competency, as well as delivering training on equality, diversity and communication across cultures. She also offers workshops and courses on a wide range of topics, ranging from Building your Creative team, Collaboration and Networking skills to Confidence Building for women returning to work.

Joining Black Women Let Loose has enabled Rachel to stretch her creative wings, develop her story telling, performance skills and collaborative working with other artists and art forms.
"More! More! More! Fantastic"
"Exceptional show and performance. Huge thanks and congratulations to all the amazing women involved. Thanks to sponsors too. Deserves to be seen by many."
"Great variety of Pathos and humour. Such a joy to watch"
"Excellent, lots of diverse emotions. Real. You should go on tour. Consider taking to schools. Thanks"
"10, This was fantastic; capturing the complexities of identity, the good and the bad. Stunning."
"Wonderful. Really nourishing/enriching. Fabulous celebration."
"Very intimate, informative, personal & thought-provoking."