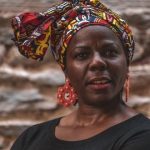 Yoma has over 20 years' experience as a marketing communications professional.

Beyond corporate environments Yoma applies her marketing skills towards supporting charities, social enterprises, Arts & Culture, community events and initiatives.

Yoma is a trustee of Bristol Museums Development Trust and is on the Advisory Board of the University of West England Business and Law School; she has been a director on the board of Bristol Pound, a trustee of Poetry Can and a volunteer marketing consultant to Babbasa Youth Empowerment Projects CIC.

In addition to performing with Black Women Let Loose Yoma also enjoys singing and has performed on many occasions with two Bristol choirs - Sing with Soul and the Bristol Jazz Festival Choir.
"More! More! More! Fantastic"
"Exceptional show and performance. Huge thanks and congratulations to all the amazing women involved. Thanks to sponsors too. Deserves to be seen by many."
"Great variety of Pathos and humour. Such a joy to watch"
"Excellent, lots of diverse emotions. Real. You should go on tour. Consider taking to schools. Thanks"
"10, This was fantastic; capturing the complexities of identity, the good and the bad. Stunning."
"Wonderful. Really nourishing/enriching. Fabulous celebration."
"Very intimate, informative, personal & thought-provoking."